It is the state's responsibility to deliver on basic rights, such as to health, education or water through public services.
When the state fails, it is women's unpaid work that often substitutes for the 'care' that should be delivered through these services. This entails a systemic transfer of hidden subsidies from women to the rest of the economy -- effectively a time-tax on women.
Significantly, it is the poorest women, and those in marginalized areas, who cannot afford to buy-in services or have little or no access to services, who are often the hardest hit from a lack of good quality and free public services. This means their unfair burden of care is heaviest – the very women who need more time for working their way out of poverty.
#AllWomenWork campaign focuses on three public services; early childhood care and education; water and sanitation; and, health and sexual and reproductive health rights. This is because these have been shown to have the largest impact on how much unpaid care work poor women do. But we also don't want to play one public service off against another. So, ultimately, we're calling to "make care fairer" and a "care budget".
---
Key Facts
According to the International Labour Organisation, 2.1 billion people around the world were in need of care in 2015, including 1.9 billion children under 15 and 200 million older people. By 2030, this number is expected to reach 2.3 billion.
Globally, two billion people work eight hours per day performing unpaid care work. Were such services to be valued on the basis of an hourly minimum wage, they would amount to 9% of global GDP.
Research shows that across the world women deliver more than three-quarters of the time spent in unpaid care work.
---
Lucky's story
Lucky, 36 - who lives in Bangladesh - married her husband, Anarul, when she was 17. Together they have three children. Her husband is a day labourer. With only the income from her husband, it was very difficult for them to bear all the family expenses. Sometimes, it was not possible to manage three meals per day for the family. Lucky joined Ujjol Upahar women's group to try and improve her life.
Through the group and ActionAid, Lucky received training, gained knowledge, and increased her confidence. In addition, the group organised awareness meetings with religious leaders, men and boys about the redistribution of care. Spouse meetings were arranged to change husbands' mindset on unpaid care work. Lucky's husband was convinced and now plays a supportive role in her work and appreciates her engagement with the group.
Now, Lucky's daily life is not like most other women's in her country. In the morning, she and her husband prepare breakfast together. After that Anarul goes for his shower, taking their younger child with him so he can help the child shower too. Besides cooking, the couple shares the care of their children. As her husband participated in all the household chores, she is able to get involved with income generating activities such as tailoring and cow fattening.
Anarul says:
"As I could support my wife doing all the Unpaid Care Work, she could manage time to engage with income generating work. Now she is an honorable person in the community and she secured a position here."
To change the women's position in the family and society, the women's group and federation members mobilised the whole community and established the 'Dhanar Para Day Care Centre'. Children from 6 months to 4 years old can enrol at the centre to enable mothers to engage in productive work.
Lucky is very popular as 'Netri (Leader)'. She is now chairperson of the group that first helped her. Lucky's leadership capabilities and ability to solve problems became visible to everyone. People started calling her to local arbitration meetings and she was elected as the Federation President. She got involved in various local decision-making structures as School Management Committee, Social Development Committee etc. She received 'Joyita Award': a government award provided to women activists at community level who have made a significant contribution to bringing changes in their own and others' lives.
Lucky says:
"I do not want any other woman to pass such a miserable life like I did before. That is why I am working for other women. Still there is long way to go to bring such change in the whole community and we are working for that. I will continue my journey for the betterment of the women of my community and beyond."
---
Background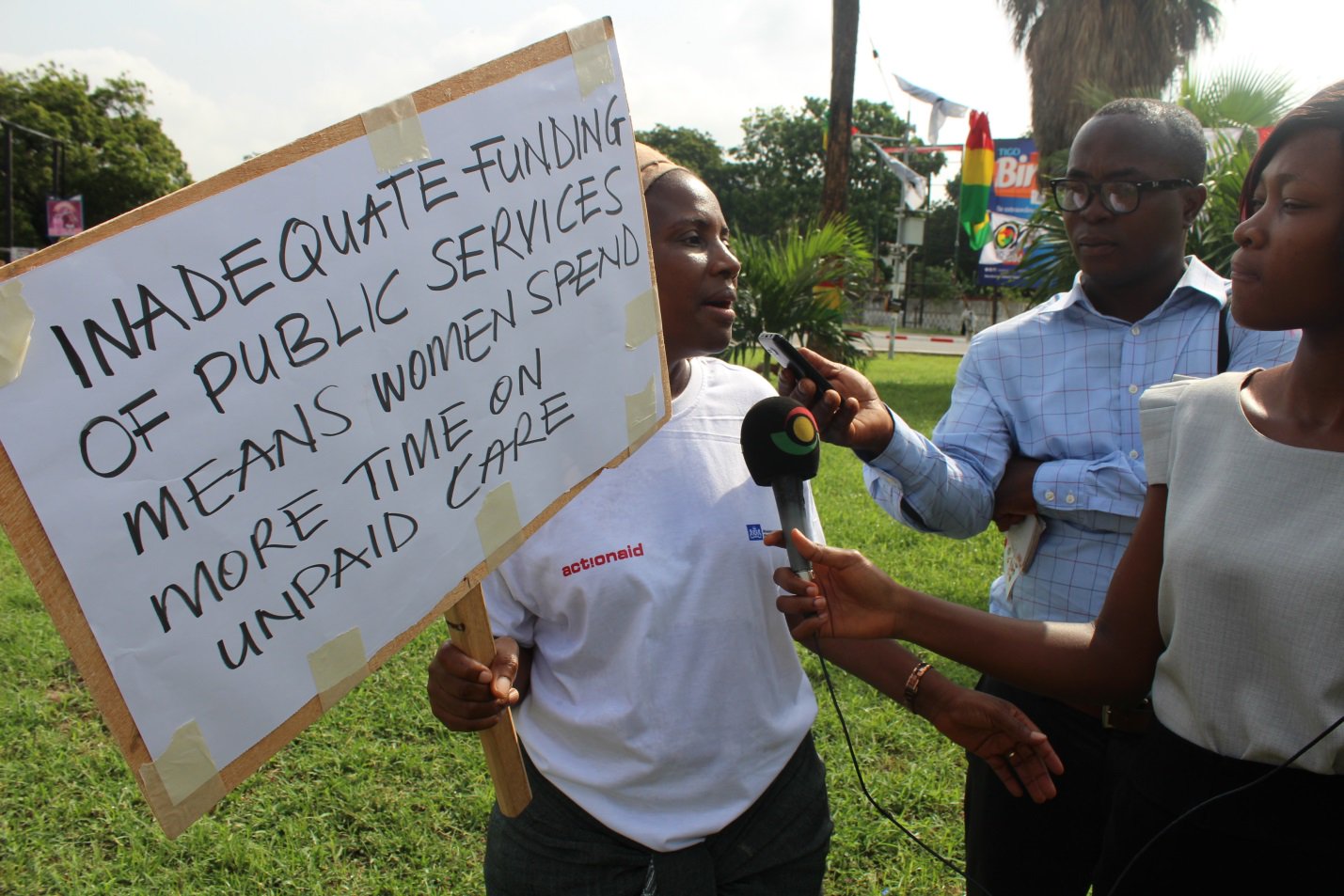 Globally, women still participate less than men in the labour force, and not always by choice. Women are still relied upon to shoulder the burden of domestic responsibility, especially when public services don't support citizens as they should. Women who do enter the workforce are often driven into insecure employment which is lower paid. Women's participation in work of this kind is often at the expense of the care needs within their own families. The slack is then picked up by either younger girls or older women within the family.
There is increasing recognition from global organisations, such as UN, G20 and international finance institutions, of the need to address unpaid care and domestic work in the context of achieving gender equality and justice, women's economic empowerment and increasing women's labour force participation.
Economic austerity policies being implemented in a large part of the world assume an unlimited supply of care labour across households, resulting in an ongoing crisis of care. Where care has been provided through public funding of social security and public services, there is increasing pressure to commercialise these services.
---
Next
In its flagship report "Policy Innovations for Transformative Change" the United Nations Research Institute for Social Development (UNRISD) has proposed that policymakers adopt a comprehensive "transformative care agenda." Care policies include early childhood education and care, care services for sick, disabled and older persons, redistribution of caregivers' workload from the domestic to public spheres, and the provision of infrastructure that reduces women's and children's workloads (such as communal wells and piped water). They also include an array of income security and social protection policies, as well as labour market policies such as maternity benefits and parental leave.
#AllWomenWork is calling for Gender Responsive Public Services, built around four pillars:
Services should be publicly financed,

Publicly delivered and universal,

Gender equitable and inclusive,

Of quality in line with human rights standards.
Building on the four pillars of Gender Responsive Public Services, all governments are urged to make sure their citizens have access to:
Education and early child care

Public health, including sexual and reproductive health and rights

Water and sanitation

Public transport and mobility.